Mr. Monk on the Road

by Lee Goldberg
Adrian Monk is feeling strangely...
satisfied
. His job is secure, and his wife's murder has finally been solved. He'd like his agoraphobic brother, Ambrose, to be able to feel the same way--and sees his brother's birthday as a chance to make it happen. So Monk puts a secret ingredient in Ambrose's birthday cake: sleeping pills. When he wakes up, they're in a motor home on the open road. Monk is determined to show his brother the outside world. But as little crimes pop up along the highway, Monk can't resist getting involved.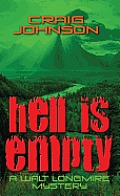 Hell is Empty: A Walt Longmire Mystery

by Craig Johnson
Well-read and world-weary, Sheriff Walt Longmire has been maintaining order in Wyoming's Absaroka County for more than thirty years, but in this riveting seventh outing he is pushed to his limits. Raynaud Shade, an adopted Crow Indian, has confessed to murdering a boy ten years ago and burying him deep within the Big Horn Mountains. Shade and a group of other convicts escape while Walt is transporting them through a snowstorm, and Walt, guided only by Indian mysticism and a battered copy of Dante's Inferno, pursues them into an icy hell.
Silver Sparrow

by Tayari Jones
Tayari Jones unveils a breathtaking story about a man's deception, a family's complicity, and two teenage girls caught in the middle. Set in a middle-class neighborhood in Atlanta in the 1980s, the novel revolves around James Witherspoon's two families--the public one and the secret one. When the daughters from each family meet and form a friendship, only one of them knows they are sisters. It is a relationship destined to explode when secrets are revealed and illusions shattered.