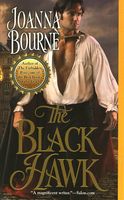 The Black Hawk

by Joanna Bourne
Someone is stalking agent Justine DeCabrillac through London's gray streets. Under cover of the rain, the assassin strikes--and Justine staggers to the door of the one man who can save her. The man she once loved. The man she hated. Adrian Hawkhurst. Adrian wanted the treacherous beauty known as "Owl" back in his bed, but not wounded and clinging to life. Now, as he helps her heal, the two must learn to trust each other and to confront the hidden menace that's trying to kill them--and survive long enough to explore the passion simmering between them once again.
With No Remorse

by Cindy Gerard
For Luke Colter, downtime is an illusion. He should know better than to ever leave his gun behind, especially since now he's risking his life to save world-famous supermodel Valentina. Val thought traveling incognito through the mountains would be the perfect cure for her bruised heart...until someone tries to kill her. Without knowing who is after her--and why--does she dare trust her irresistible protector?
Where Demons Fear to Tread

by Stephanie Chong
Fledging guardian angel and yoga teacher Serena St. Clair dares to enter Devil's Paradise nightclub on a mission--to retrieve the wayward Hollywood "It Boy" she's assigned to protect. But she's ambushed by the club's owner, arch demon Julian Ascher. The most powerful demonic entity in Los Angeles, Julian is handsome as sin, a master of temptation who loves nothing more than corrupting pleasure-seeking humans. He won't release the lost soul Serena is supposed to guard. Unless she accepts his dangerous wager.