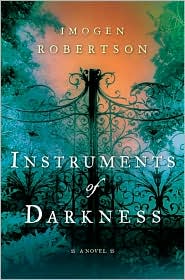 Instruments of Darkness

by Imogen Robertson
In the year 1790, Harriet Westerman, the unconventional mistress of a country manor in Sussex, finds a dead man on her grounds with a ring bearing the crest of Thornleigh Hall in his pocket. For years, Mrs. Westerman has sensed the menace of the hall, home of a once-great family that has been reduced to an ailing invalid, his whorish wife, and his alcoholic second son--a man haunted by his years spent as a redcoat in the Revolutionary War. She recruits a reclusive local anatomist named Gabriel Crowther to help her find the murderer. The same day, Alexander Adams is slain by an unknown killer in his London music shop, leaving his young children orphaned. His death will lead back to Sussex, and to an explosive secret that has already destroyed one family and threatened many others.
Collecting Cooper

by Paul Cleave
People are disappearing in Christchurch. Cooper Riley, a psychology professor, doesn't make it to work one day. Emma Green, one of his students, doesn't make it home. When ex-cop Theodore Tate is released from a four-month prison stint, he's asked by Green's father to help find Emma. After all, Tate was in jail for nearly killing her in a DUI accident the year before, so he owes him. Big time. What neither of them knows is that a former mental patient is holding people prisoner as part of his growing collection of serial killer souvenirs. Now he has acquired the ultimate collector's item--an actual killer. Meanwhile, clues keep pulling Tate back to Grover Hills, the mental institution that closed down three years ago. Very bad things happened there. Those who managed to survive would prefer keeping their memories buried. Tate has no choice but to unearth Grover Hills' dark past if there is any chance of finding Emma Green and Cooper Riley alive.
Graveminder

by Melissa Marr
Rebekkah Barrow never forgot the attention her grandmother Maylene bestowed upon the dead of Claysville, the small town where Bek spent her adolescence. There wasn't a funeral that Maylene didn't attend, and at each one Rebekkah watched as Maylene performed the same unusual ritual: She took three sips from a silver flask and spoke three words "
Sleep well, and stay where I put you
." Now Maylene is dead, and Bek must go back to the place she left a decade earlier. She soon discovers that Claysville is not just the sleepy town she remembers, and that Maylene had good reason for her odd traditions. It turns out that in Claysville the worlds of the living and the dead are dangerously connected; beneath the town lies a shadowy, lawless land ruled by an enigmatic Charles, aka Mr. D. If the dead are not properly cared for, they will come back to satiate themselves with food, drink, and stories from the land of the living. Only the Graveminder, by tradition a Barrow woman, and her Undertaker--in this case Byron Montgomery, with whom Bek shares a complicated past--can set things right once the dead begin to walk.