Don't Kill the Birthday Girl: Tales for an Allergic Life

by Sandra Beasley
Like twelve million other Americans, Sandra Beasley suffers from food allergies. Her allergies -- severe and lifelong -- include dairy, eggs, soy, beef, shrimp, pine nuts, cucumbers, cantaloupe, honeydew, mango, macadamias, pistachios, cashews, swordfish, and mustard. Add to that mold, dust, grass and tree pollen, cigarette smoke, dogs, rabbits, horses, and wool, and it's no wonder Sandra felt she had to live her life as "Allergy Girl." When butter is deadly and eggs can make your throat swell shut, cupcakes and other treats of childhood are out of the question -- and so Sandra's mother used to warm guests against a toxic, frosting-tinged kiss with "Don't Kill the Birthday Girl!"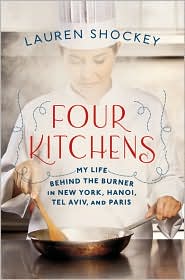 Four Kitchens: My Life Behind the Burner in New York, Hanoi, Tel Aviv, and Paris

by Lauren Shockey
At the French Culinary Institute, Lauren Shockey learned to salt food properly, cook fearlessly over high heat, and knock back beers like a pro. But she also discovered that her real culinary eduction wouldn't begin until she actually worked in a restaurant. After a somewhat disappointing apprenticeship in the French city of Toulouse, Shockey hatched a plan for her dream year: to apprentice in four high-end restaurants around the world. She started in her hometown of New York City under the famed chef Wylie Dufresne at the molecular gastronomy hotspot wd-50, then traveled to Vietnam, Israel, and back to France.