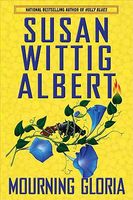 Mourning Gloria

by Susan Wittig Albert
China is relishing the scents, produce, and even the showers of spring. She's also busy manning her booth at the Pecan Springs Farmers' Market. It brings additional customers to her herb shop, Thyme and Seasons, and residents find rare ingredients they wouldn't otherwise find in the supermarket. Everybody wins. But as the town bustles back to life in the warmth of the season, one woman's life is tragically brought to an end. China happens upon a burning house trailer and hears a woman screaming for help. The evidence leaves no doubt that it's an arson-homicide-- but would commit such a ghastly crime?
Rainstone Fall

by Peter Helton
For Chris Honeysett, artist and private investigator in the city of Bath, autumn threatens to bring down more than just the roof of his studio. An exceptionally stormy October forms the backdrop to Aqua Investigation's strangest case yet. When Chris downs brushes to take on what looks like a simple surveillance job he finds himself in a frenetic world of murder, abduction and blackmail. Dark problems sometimes require drastic solutions--why else would Honeysett suddenly find himself on the wrong side of the law?