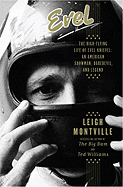 Evel: The High-Flying Life of Evel Knievel: American Showman, Daredevil, and Legend

by Leigh Montville
He was a cultural icon who defined an American era--a real-life action hero whose daredevil thrills and disastrous crashes dominated the talk in schoolyards, workshops, and water coolers. But beneath the red, white, and blue cape, who was the man? From three-time New York Times bestselling author Leigh Montville, this riveting new biography explores the triumphs and catastrophes, the outward charisma and the hidden dark side, of the volatile man known to millions as Evel Knievel.
A Bittersweet Season: Caring for Our Aging Parents--and Ourselves

by Jane Gross
In telling the intimate story of caring for her aged and ailing mother, Jane Gross offers indispensable, and often surprising, advice for the rapidly increasing number of adult children responsible for aging parents. Gross deftly weaves the specifics of her personal experience--a widowed mother with mounting health problems, the attendant collision of fear and ignorance, the awkward role reversal of parent and child, unresolved family relationships with her mother and brother, the conflict between her day job and caregiving--with a comprehensive resource for effectively managing the lives of one's own parents while keeping sanity and strength intact.