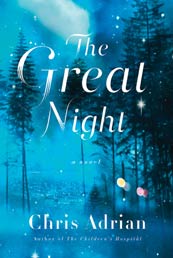 The Great Night

by Chris Adrian
On Midsummer's Eve 2008, three people, each on the run from a failed relationship, become trapped in San Francisco's Buena Vista Park, the secret home of Titania, Oberon, and their court. On this night, something awful is happening in the faerie kingdom: in a fit of sadness over the end of her marriage, which broke up in the wake of the death of her adopted son, Titania has set loose an ancient menace, and the chaos that ensues threatens the lives of immortals and mortals alike.



Vaclav and Lena

by Haley Tanner
Vaclav and Lena seem destined for each other. They meet as children in an ESL class in Brighton Beach, Brooklyn. Vaclav is precocious and verbal. Lena, struggling with English, takes comfort in the safety of his adoration, his noisy, loving home, and the care of Rasia, his big-hearted mother. Vaclav imagines their story unfolding like a fairy tale but among the many truths to be discovered in Haley Tanner's wondrous debut is that happily ever after is never a foregone conclusion.
The Way Things Look to Me

by Roopa Farooki
The Murphy family has never tried to be different; they just are. When Yasmin, the youngest sibling, was diagnosed with Asperger's syndrome, her older siblings learned to adapt to less attention and more responsibility, to a sister with "special abilities" that no one, not even they, could ever truly understand. And then there's the way Yasmin sees it: She sees music in color, and her mind remembers every tiny detail of every day until sometimes she wishes she could just forget.