I Still Dream About You
by Fannie Flagg
Meet Maggie Fortenberry, a still beautiful former Miss Alabama. To others, Maggie's life seems practically perfect -- she's lovely, charming, and a successful real estate agent at Red Mountain Realty. Still, Maggie can't help but wonder how to wound up in her present condition. She had been on her hopeful way to becoming Miss America and realizing her childhood dream of someday living in one of the elegant old homes on top of Red Mountain, with the adoring husband and 2.5 children, but then something unexpected happened and changed everything. Maggie has heartbreaking secrets in her past, but through a strange turn of events she soon discovers, quite by accident, that everybody, it seems -- dead or alive -- has at least one little secret.
Luka and the Fire of Life
by Salman Rushdie
With the same dazzling imagination and love of language that has made Salman Rushdie one of the great storytellers of our time,
Luka and the Fire of Life
revisits the magic-infused, intricate world he first brought to life in the modern classic
Haroun and the Sea of Stories.
This breathtaking new novel centers on Luka, Haroun's younger brother, who must save his father from certain doom. Rashid Khalifa, the legendary storyteller of Kahani, has fallen into a deep sleep from which no one can wake him. To keep his father from slipping away entirely, Luka must travel to the Magic World and steal the ever-burning Fire of Life.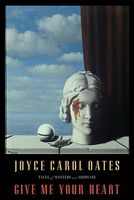 Give Me Your Heart: Tales of Mystery and Suspense
by Joyce Carol Oates
The need for love -- obsessive, self-destructive, unpredictable -- takes us to forbidden places, as in the chilling world of Oates new collection of stories. In these powerful tales, children veer beyond their parents' control, wives and husbands wake up to find that they hardly knew each other, haunted pasts intrude upon uncertain futures, and those who bring us the most harm may be nearest at hand.